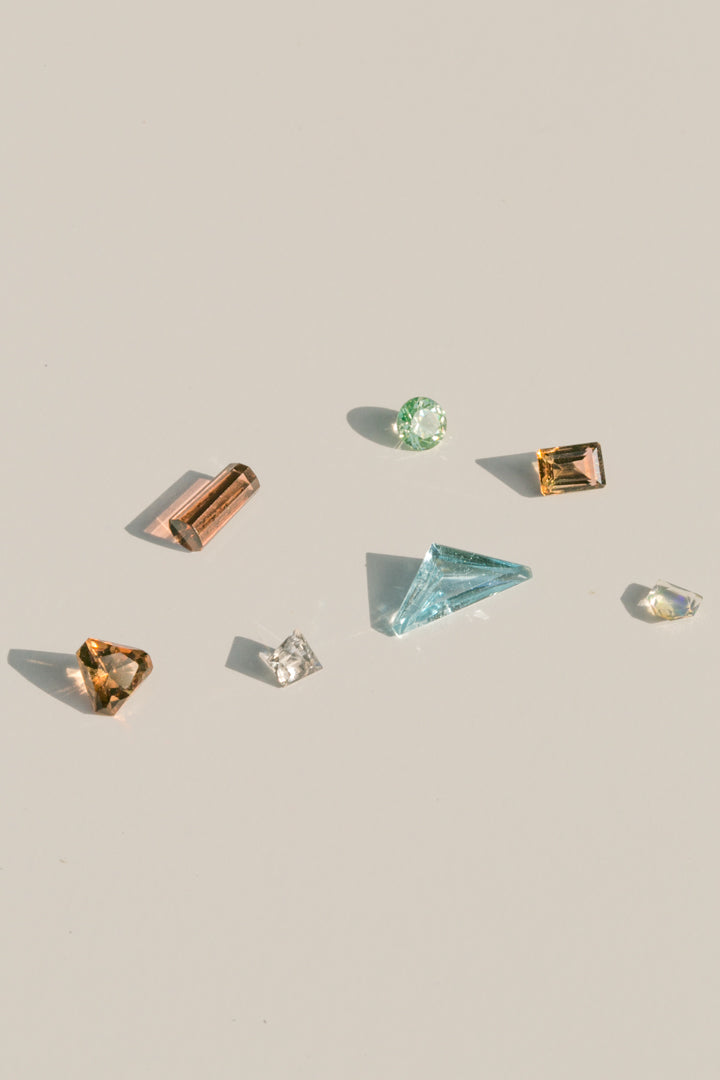 CUSTOM DESIGN
Our Custom Shop is a space for you to collaboratively dream up a special jewelry piece with our Founder and Head Designer, Christine Howell. Design with confidence knowing your piece is unique, ethically made, and crafted to last for generations.
Custom Design Archives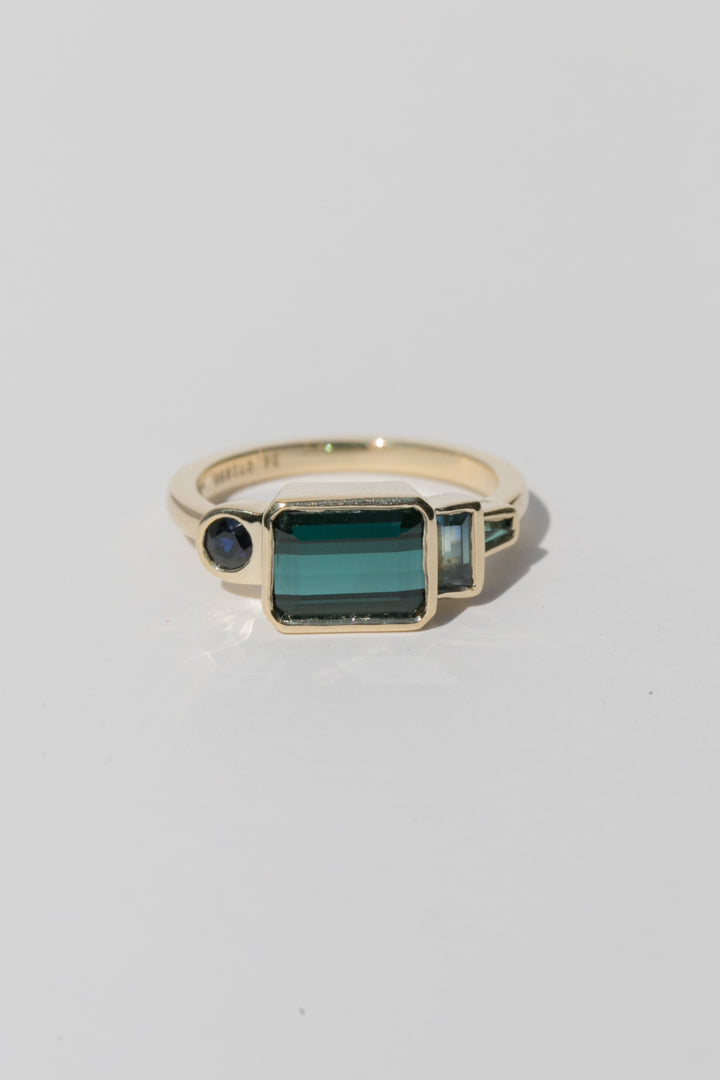 VEDA
Engagement ring with a 2ct emerald cut teal tourmaline as the center stone, accented with varying shades of blue sapphires. Bezel set, geometric design.
Mood: vibey, unique, modern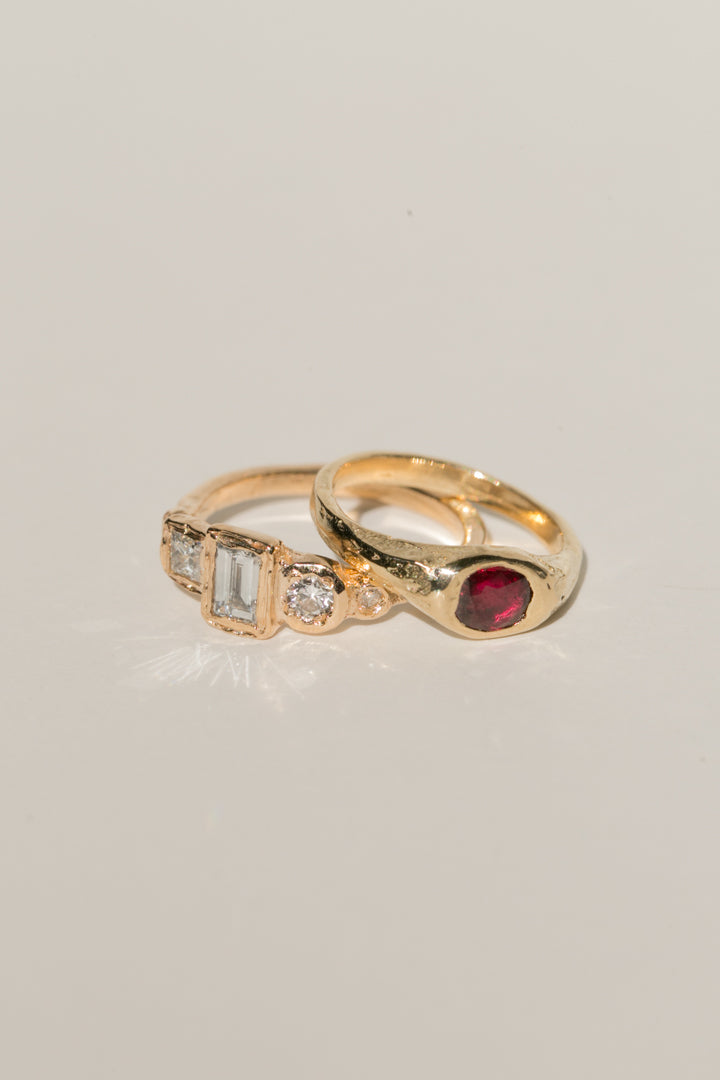 VIRGINIA
Heirloom gold and gems transformed into two new rings. Diamond ring to be worn as wedding ring, and ruby ring as a signet style pinky ring.
Mood: ancient treasures, earthy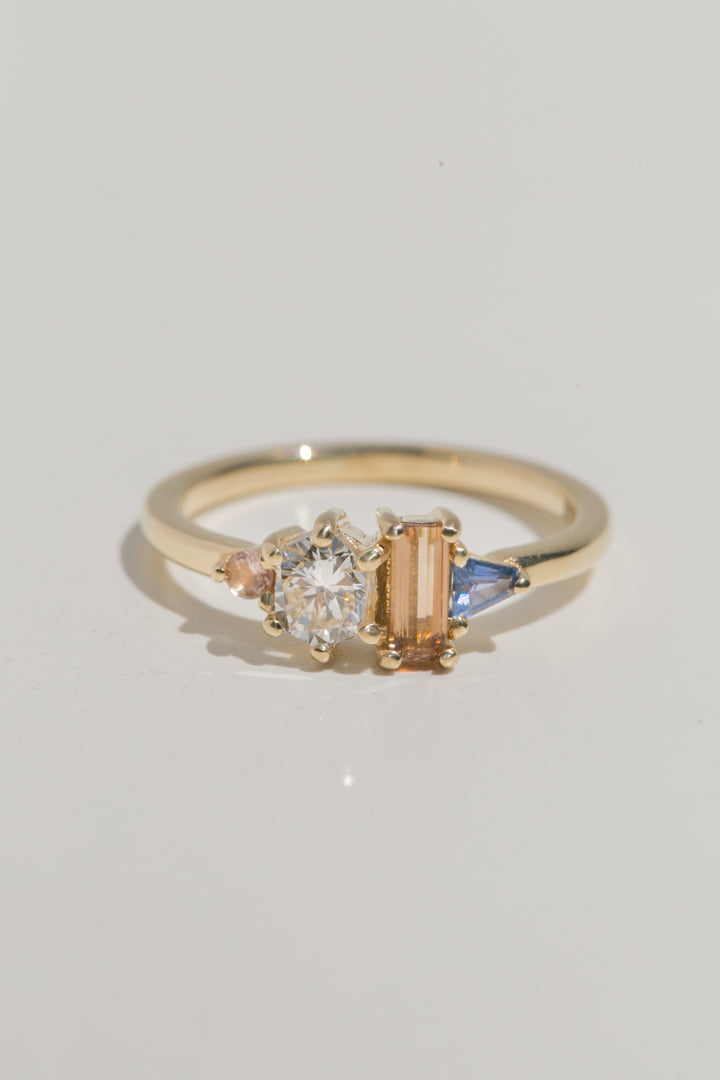 NICOLE
Redesigned wedding ring. Diamond was round and we cut it into a hexagon, and added accent sapphires & tourmaline that were in a color palette that she loved.
Mood: transformative, playful, symbolic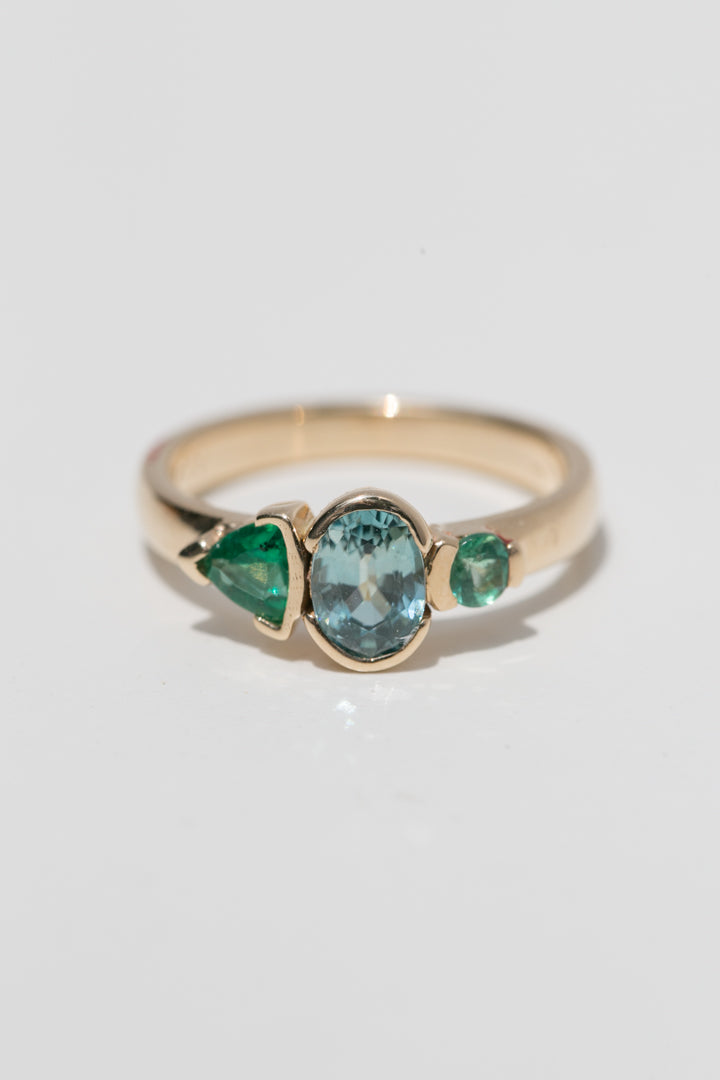 ERINN
Heirloom redesign. Grandmothers' gold wedding bands were melted down to create this new ring, featuring emeralds & blue zircon, which were their birthstones. Modified bezels around each gem, and a thick band.
Mood: antiquity meets modernity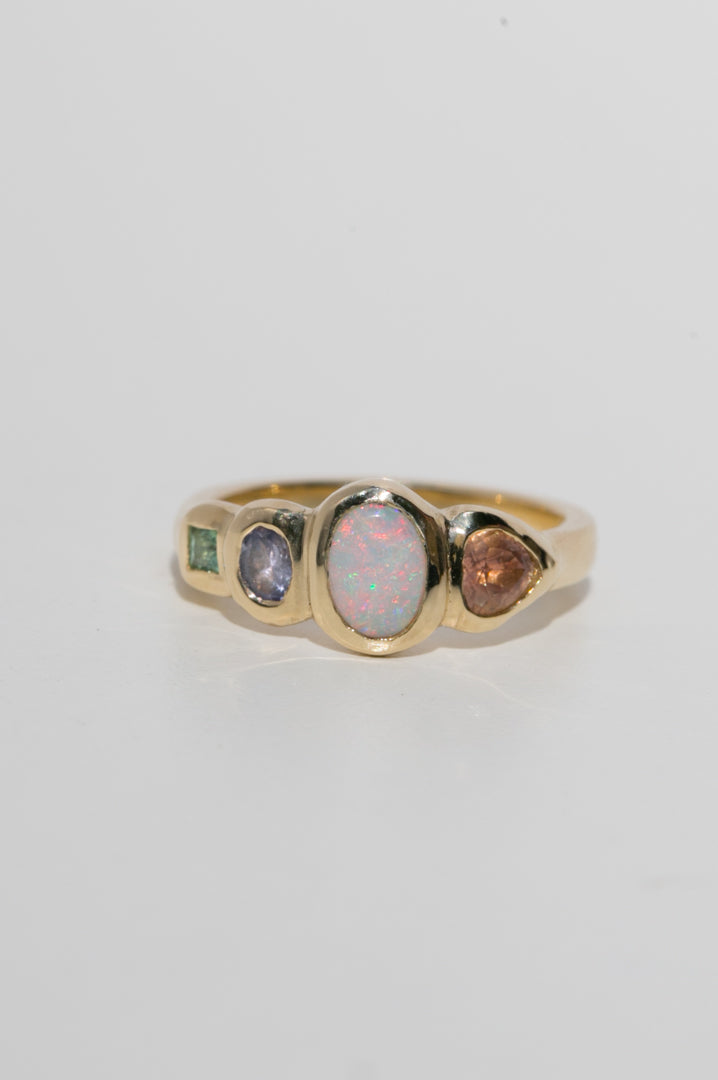 NADIA
Australian opal engagement ring with tourmaline, sapphire, and sunstone. Full bezel settings around each stone.
Mood: colorful, fun, geometric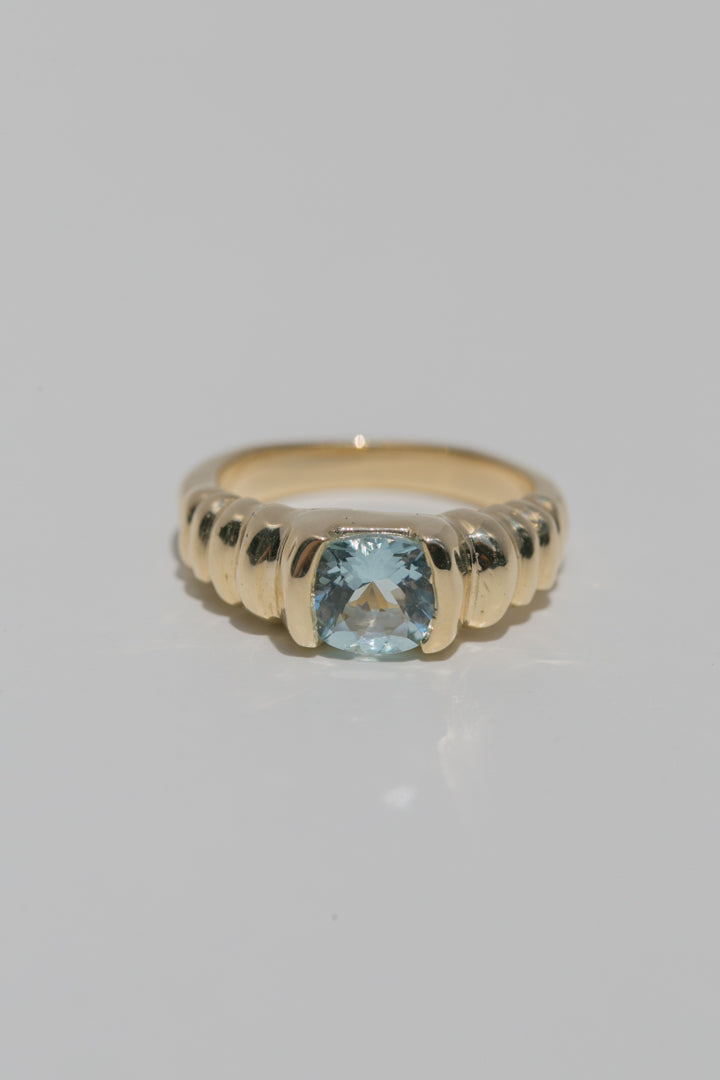 CARLY
A new, hand carved scalloped setting for the 1ct cushion cut aquamarine from her original engagement ring.
Mood: bold, textural, seaside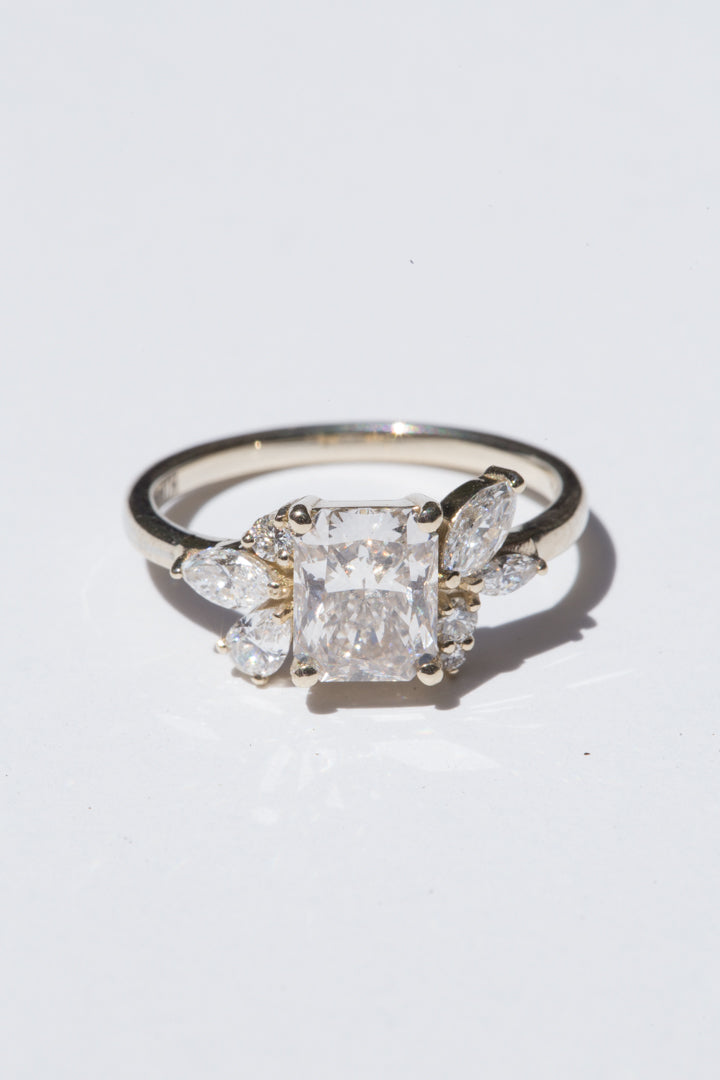 HOSANNA
Engagement ring with 1.4ct radiant cut diamond, with accent pears, marquise & brilliant diamonds. Prong setting, asymmetric.
Mood: ethereal, dreamy, Elven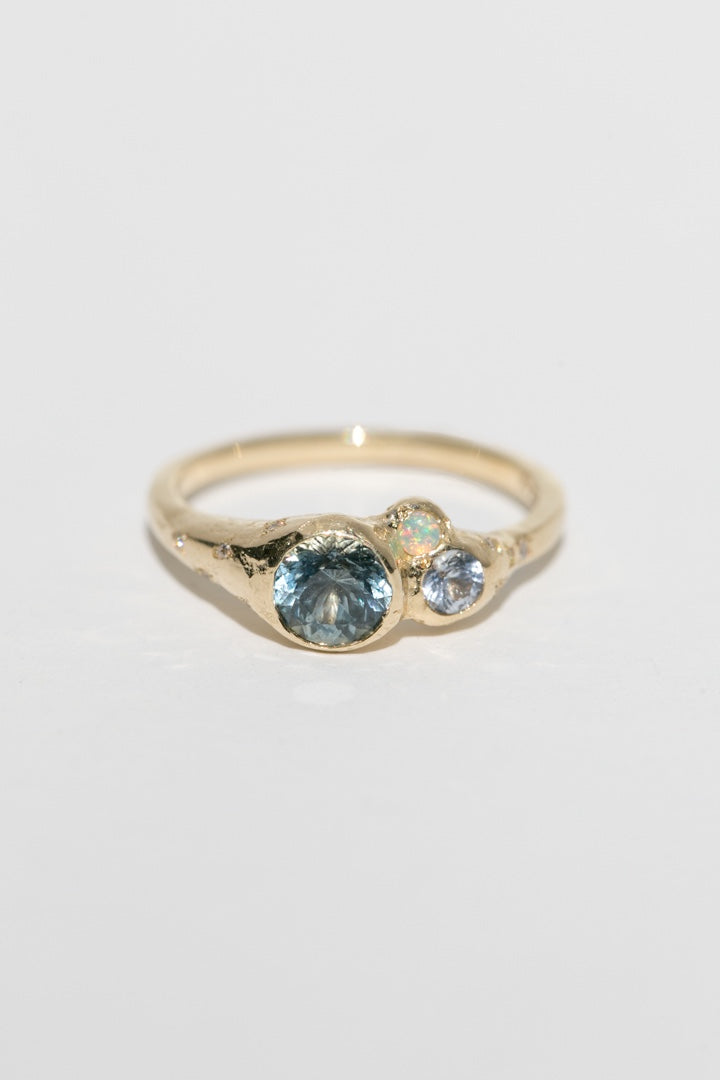 ISABEL
Blue sapphire & opal engagement ring. The shades of blue were chosen based on the couple's eye colors. Accent opal and small diamonds sprinkled into the sides.
Mood: organic, natural, symbolic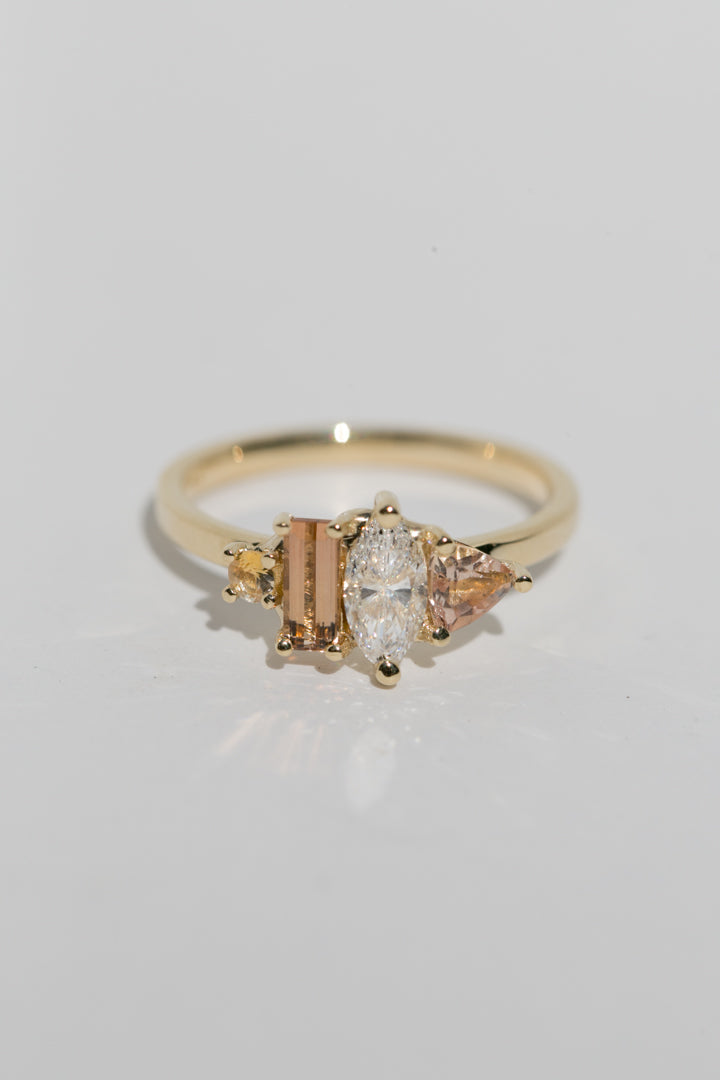 ELAINE
Engagement ring featuring a family heirloom marquise diamond, accented with yellow sapphire, amber tourmaline, and a pink sunstone. Prong setting around each gemstone.
Mood: sunset vibes, architectural, enchanting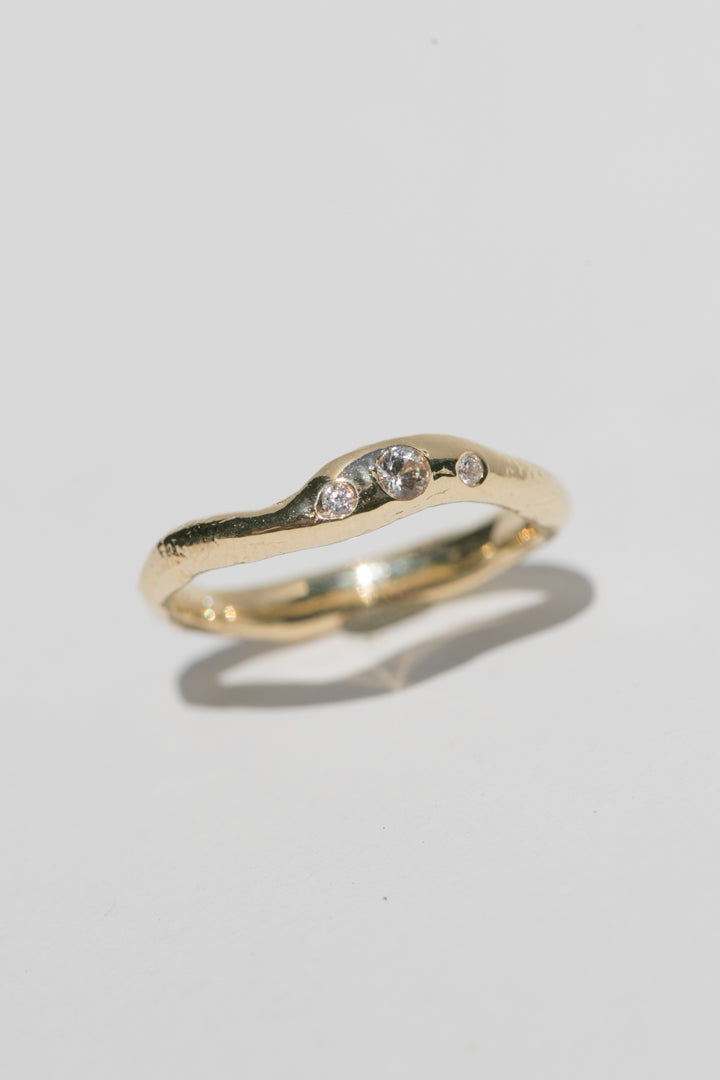 LINDSAY
A ring to remember and celebrate the life of a lost love. A pale pink sapphire with two diamonds on the sides, burnish set into the gold. Song lyrics of meaning inscribed onto the inside of the band.
Mood: fluid, sentimental, valued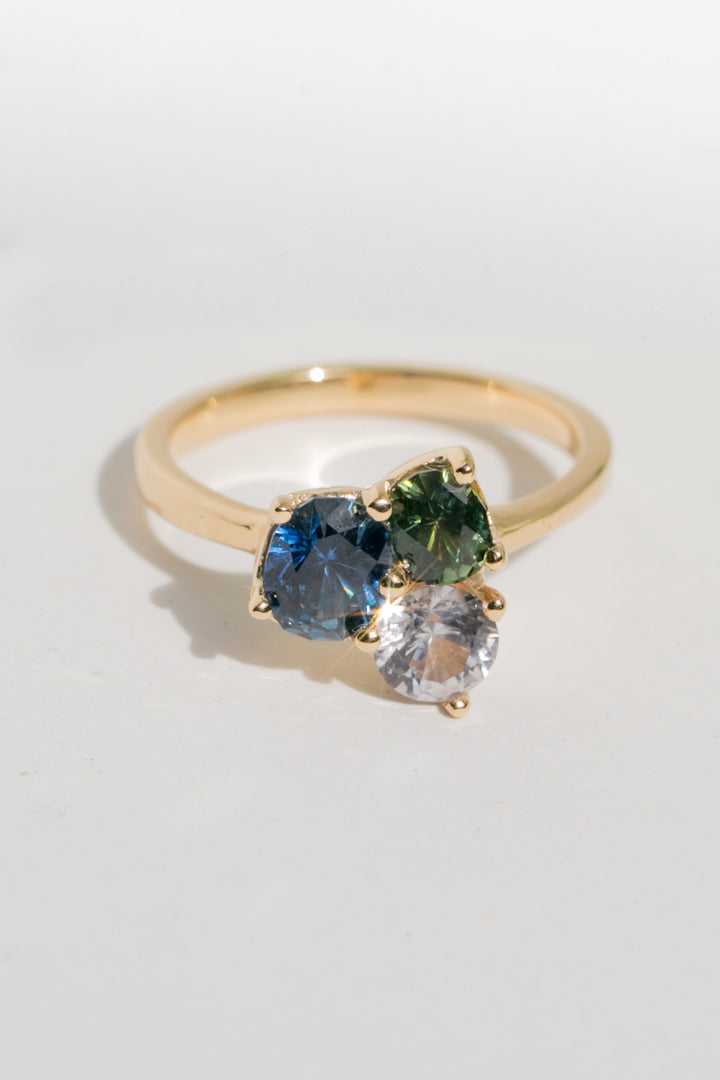 JESSIE
Three sapphire engagement ring in a cluster setting. The colors of sapphires represent the earth, sea, and sky.
Mood: vibrant, earthy, asymmetric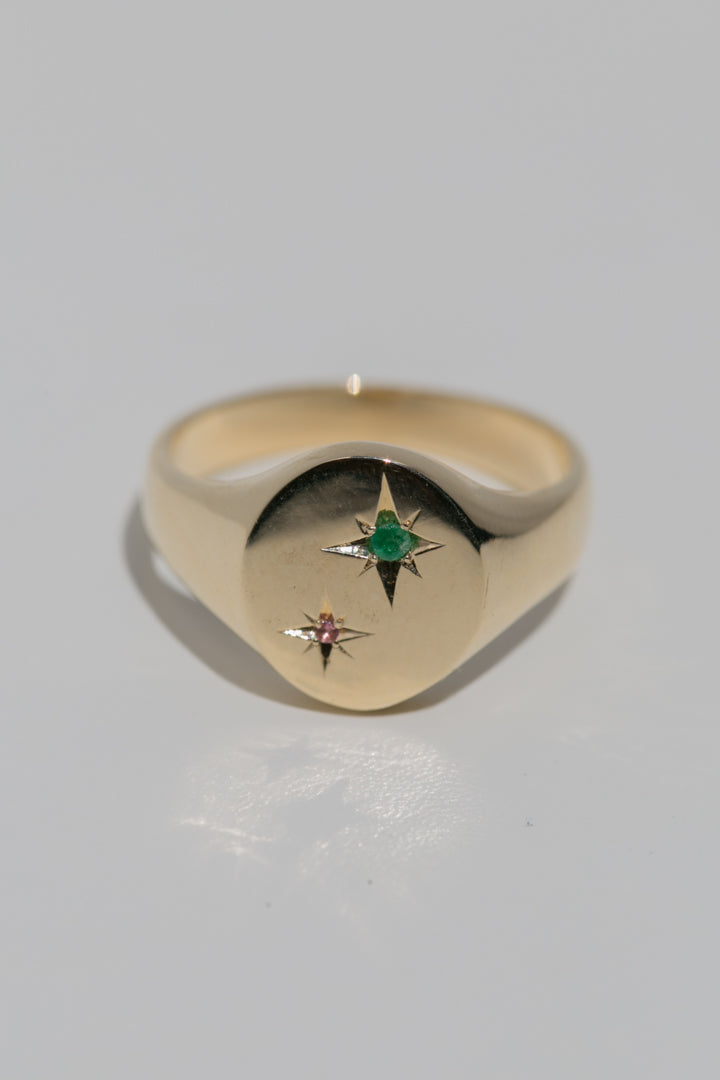 DENISE
Signet style ring with inlaid emerald & tourmaline, in honor of her May & October babies. Twinkle engraved around gemstones.
Mood: sleek, clean, bold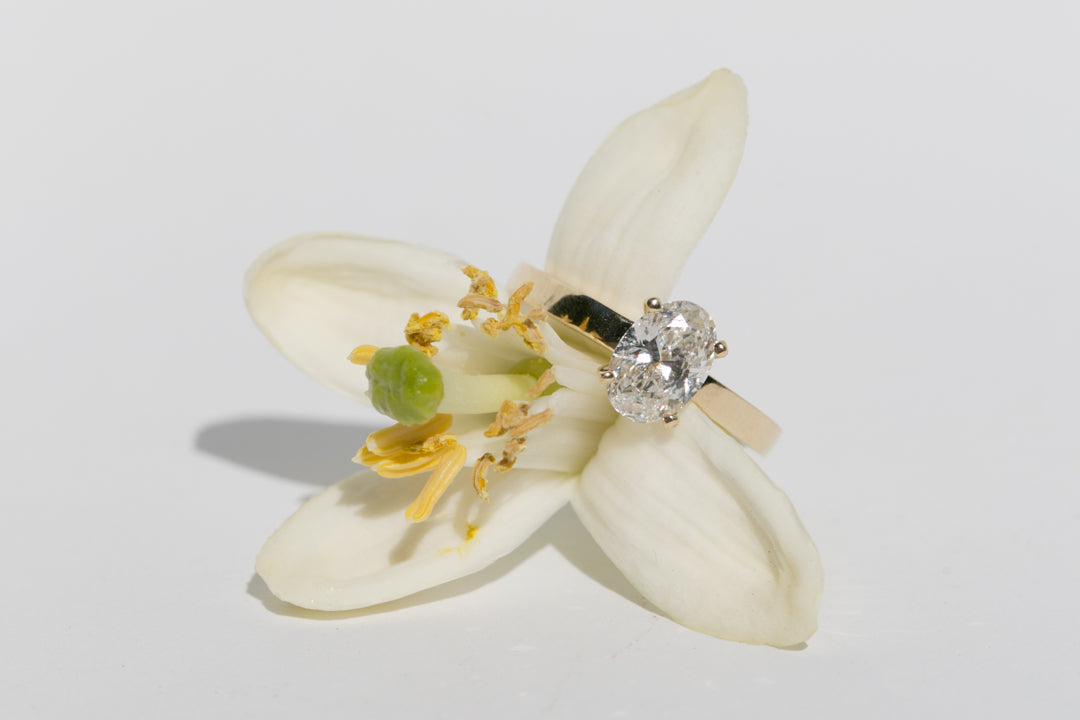 MACKENZIE
1.3ct oval cut diamond in a solitaire prong setting.
Mood: classic, elegant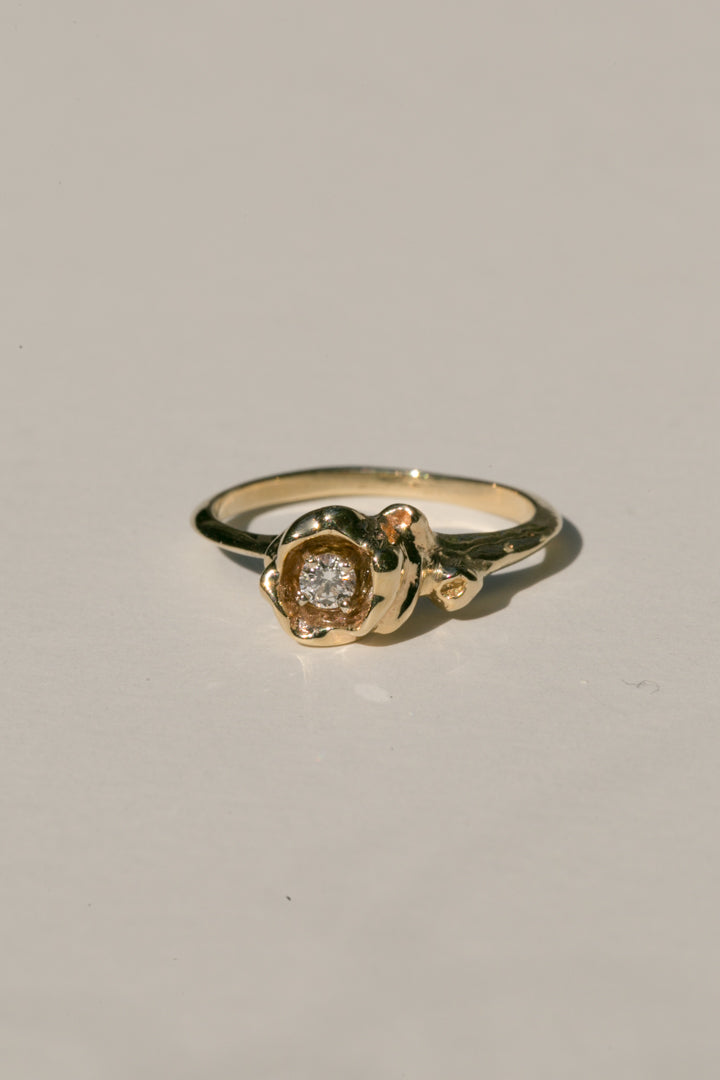 KELLY
Heirloom recreation. Sculptural rose ring with diamond made in homage to her grandmother's original ring.
Mood: floral, organic, sentimental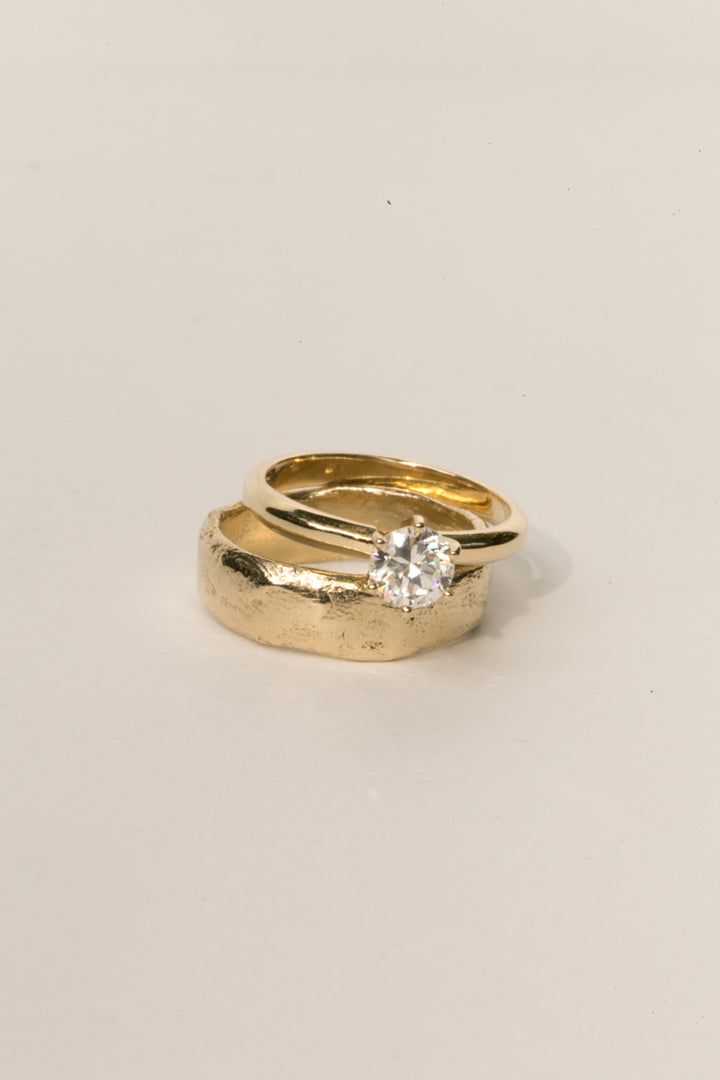 MONIKA
Redesigned wedding set. Used diamond from original white gold engagement ring and created a new 6-prong setting in yellow gold, and sculpted a thick organic wedding band to be worn with it.
Mood: polished & classic meets organic & earthy
Interested in a totally custom design?